Greenteam Has Been Awarded The County Business Enterprise (CBE) Certification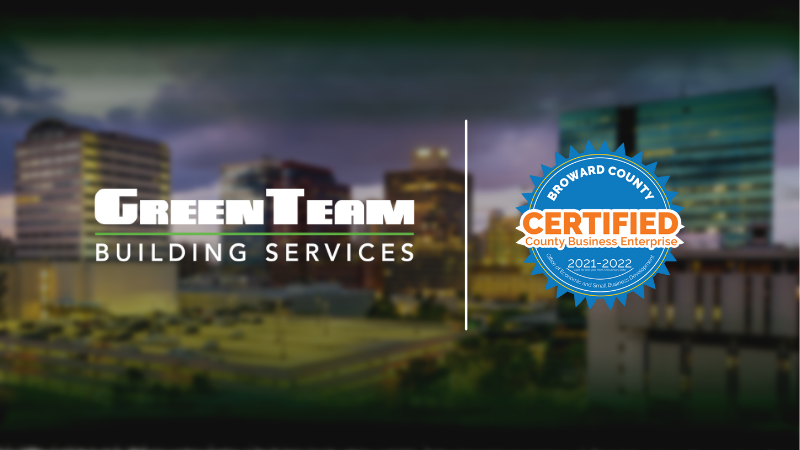 (Nov 10, 2021) GreenTeam | Building Services (Green Team) is proud to announce that the Broward County Office of Economic and Small Business Development (OESBD) recently awarded them the County Business Enterprise (CBE) certification.
GreenTeam is now eligible to participate in the Office of Economic and Small Business Development program. The company had to meet specific criteria outlined by the OESBD in order to become eligible for the certification.
The announcement comes on the heels of a major expansion of GreenTeam's plumbing service lines, including hydro & air excavation, underground utilities locating & repair, stormwater inspections & repairs, and grease trap service & maintenance, along with the 5-year surface water license renewals to its service lines.
This new certification will enable GreenTeam to expand on its plumbing services offered to the government and municipal verticals of commercial real estate. GreenTeam currently holds contracts with the City of Delray Beach, City of Fort Lauderdale, Palm Beach County school district, as well as Miami Dade County public schools.
"We are excited and ready to go! This certification is an honor and a step in the right direction. It will help us leverage our expanded capabilities and provide exceptional service, no exceptions to the Broward County Government sector," says James Terry, GreenTeam's CEO and founder.
GreenTeam | Building Services is a South Florida company providing expert plumbing and critical infrastructure services to the commercial real estate industry, including Class-A office, industrial, retail, healthcare, and hospitality locations throughout South Florida. GreenTeam's number one focus is Exceptional Service. No Exception.